Brace yourself, white and beige: There's a new neutral coming to town. According to the Pinterest 100 list, which is the website's prediction of trends that are trending big time in 2018 based on what people are pinning, sage is about to have a serious moment.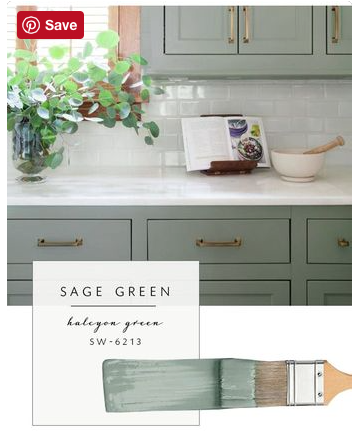 There's been a 170% increase in saves for "sage" decor — and it's easy to see why. This greyish green hue is a soft, muted color that's easy to decorate with, but doesn't veer into boring or predictable territory, hence why it's being dubbed a new neutral.

This color blends seamlessly with just about anything, including wood, metallic finishes, and distressed fabric.

Sage is also the perfect pop of color in any room that may be full of neutral furnishings and stark colors.

It's also stunning on kitchen cabinets paired with clean, white subway tile, to help it shine and take center stage. Bonus points for decorating with trendy eucalyptus leaves.

If you want to test out this color in your own home, without painting all your walls, use a soft throw blanket, pillows or other accent items. Or try a vintage-style chest or furniture that will bring character into your home.